Detroit Metropolitan Airport
As the largest airport in Michigan, and one of the top 20 rated airport in the U.S., Detroit Metropolitan Airport (DTW) serves as a gateway to the world. Millions of travelers pass through DTW each year, connecting people to more than 140 non-stop destinations around the globe.
Gravity Works partnered with Wayne County Airport Authority (WCAA) on one of the largest projects in our business's history–building and maintaining the public-facing websites for WCAA, including DTW and Willow Run Airport (YIP). We constructed a web presence for WCAA that was innovative, modern, and research-driven.
We created tools–like flight search, live security wait times, live parking statuses, and interactive terminal maps–to simplify the airport process for travelers. We designed a homepage that provided quick access to all these tools and other vital information up front. Working alongside 15 internal departments and other project stakeholders, we successfully launched a website that works on a global scale.
$10.2B
annual economic impact
140+
nonstop destinations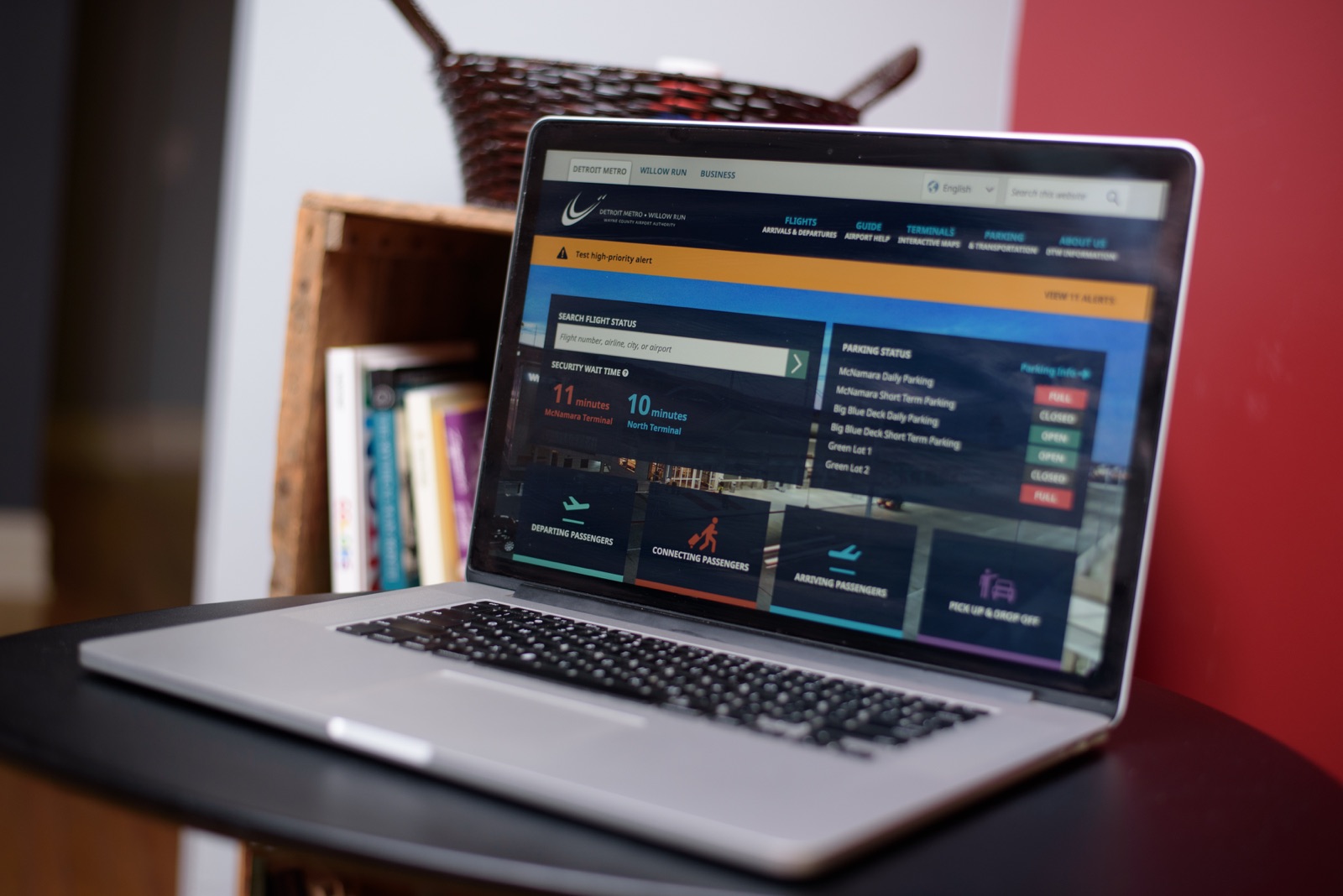 Serving a Diverse Audience
DTW is a major international airport, serving flights to four continents. The new website needed to support non-English speaking travelers with manual translations in 7 languages–Spanish, French, German, Arabic, Chinese, Korean, and Japanese. The web design further supports this language barrier by using symbols and icons with a universally recognized meaning. Information architecture and user testing helped us create a simplified site structure with clear navigation.
The website also needed to support the needs of many different user groups–seasoned global travelers, first-time flyers, airport personnel, and many other visitors. Aside from public users, there are 15 internal departments that rely on the website to share specific information and promote their message. We built a website to accommodate all these needs, helping all users locate the information they need for a successful airport experience.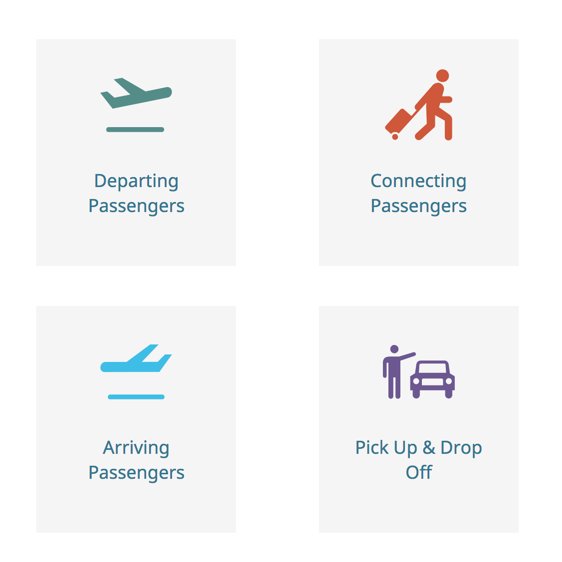 Interactive Map
It can be overwhelming to navigate large airport terminals. In fact, McNamara Terminal is the world's second longest airport concourse, spanning nearly a mile from end-to-end. That's why we built interactive terminal maps to help travelers easily find their way around. These maps use in-airport data sources to determine which gates are closest to specific services and amenities. We expanded on this functionality to allow users to search and filter.
Flight Tracking
One of the most valuable online resources for travelers is the ability to track real-time flight statuses. Our team built a system that collects data from the same sources as the airport status monitors. Users can find accurate, real-time statuses for all arriving and departing flights straight from their mobile devices. To find specific flight information, users search by flight number, airline, city, or airport. With this tool, travelers never have to miss a flight again.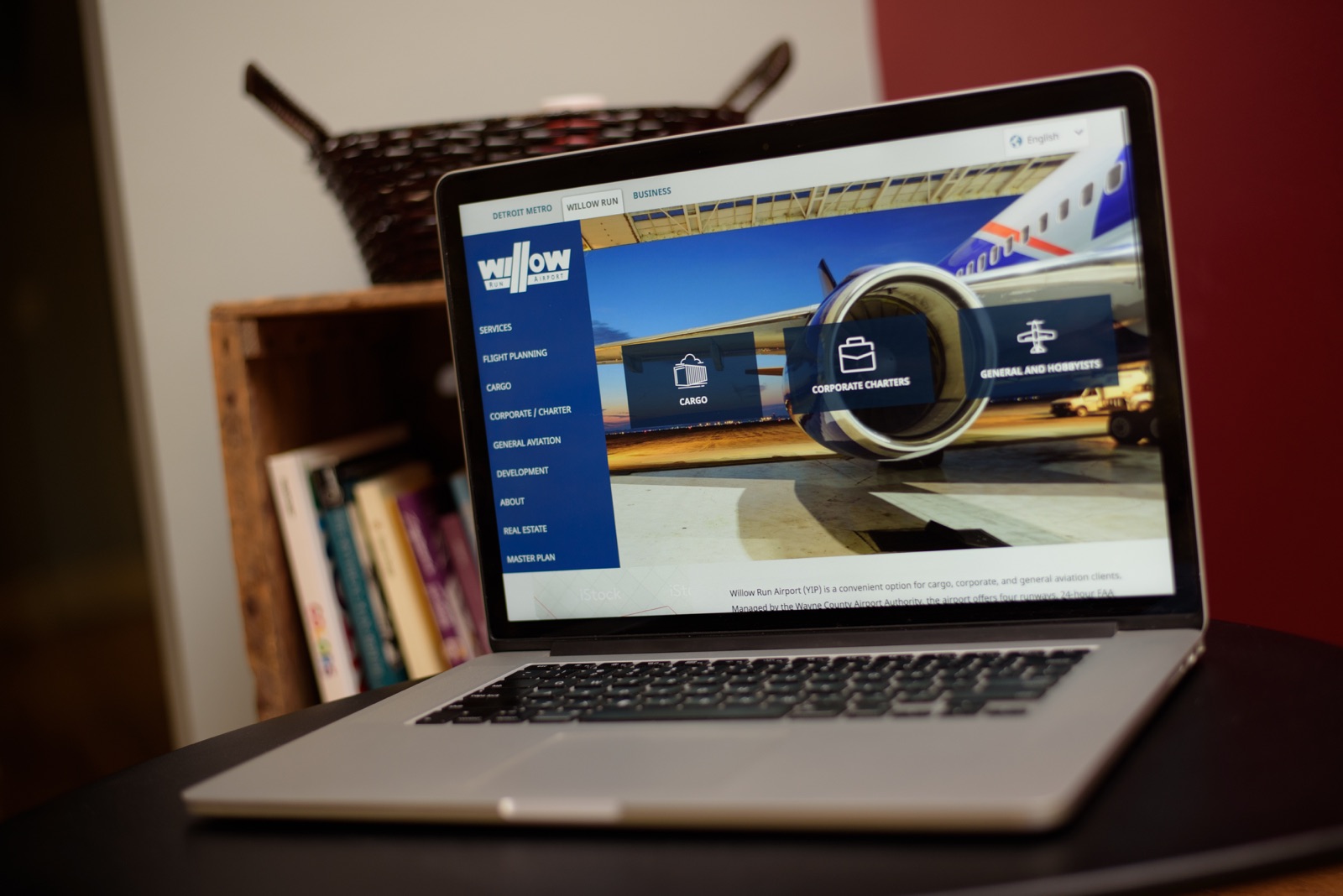 Security Wait Times
All air travelers know that the single most stressful aspect of the airport process is waiting in line at security. To reduce some of the hassle, we built a tool to display security wait times directly on the homepage. We pulled information from live-data sources to help travelers determine how much time needs to be reserved for security. Procrastinators rejoice!
Parking Status
Imagine you're trying to catch a flight. You arrive at the airport and pull your car up to the parking garage only to find that it's full. You waste the next 15 minutes trying to find a new place to park. Sometimes, those 15 minutes can mean the difference between making or missing a flight. That's why we built a tool to display parking statuses directly on the homepage. This tool uses live-data sources to determine whether there is available parking in each major parking lot and garage.
Alerts
When the unexpected happens, airport administrators needed an efficient way to quickly notify travelers. The new website allows admins to display alert banners on the homepage to inform travelers of heavy traffic, weather delays, and other important airport announcements. Admins can set the color of the banner depending on the type of active alert. For instance, high priority alerts will display in red to catch more attention.
Like What You See?
We love people who are passionate, communicative, and care about doing things the right way. Sound familiar? Let's start talking.