Ann Arbor Area Transit Authority: TheRide
The Ann Arbor Area Transportation Authority (TheRide) is the primary public transportation system in the Greater Ann Arbor-Ypsilanti Area. For more than 50 years, TheRide has provided accessible, affordable, and reliable transportation services to millions of public transit users.
Gravity Works worked closely with TheRide to migrate their existing rider tools to Drupal. We built custom front-end solutions to help their marketing team improve digital communication and connect more effectively with their riders. And most importantly, we created a superior user experience that helps Ann Arbor/Ypsilanti residents use their services to get around.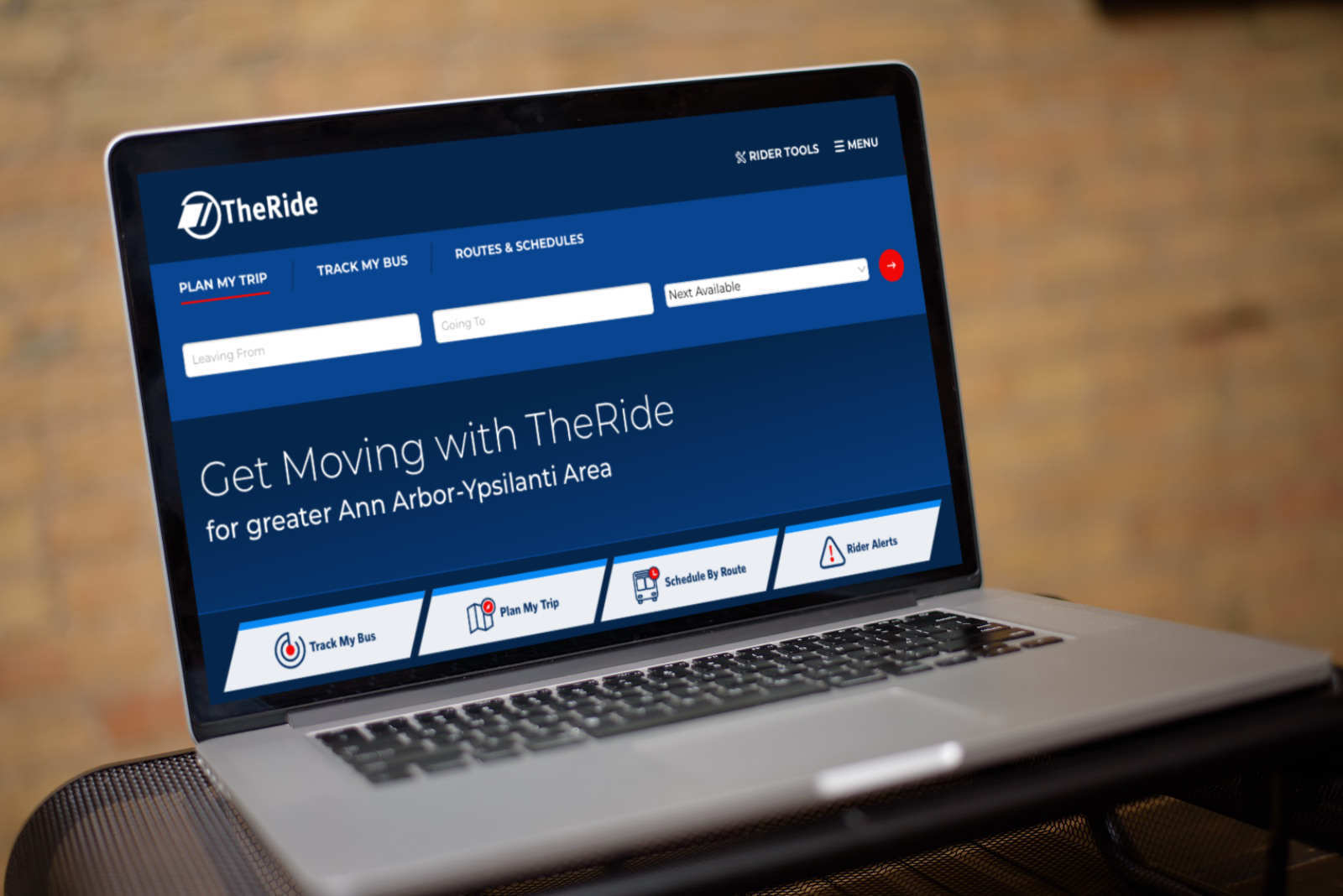 Solving Problems Using Clean Front-End Solutions
Using Drupal, we gave TheRide control to change content in as many places as possible without touching code. We streamlined the responsibilities of the content editor by following the golden rule of front-end development – content that appears on more than one page should be stored and editable in one spot. This website solves complex problems by applying methodical, clean front-end solutions.
Paragraph Type Variants
The new website makes it simple for content editors to build attractive web pages with more Paragraph types to choose from. While having options is a good thing, sometimes too many choices can feel overwhelming. To keep it simple, we grouped similar Paragraph types into the same editor experience and added a field for editors to select the style variant they want to use. Now when TheRide wants to add a call-to-action, they are presented with a cleaner, more intuitive set of options.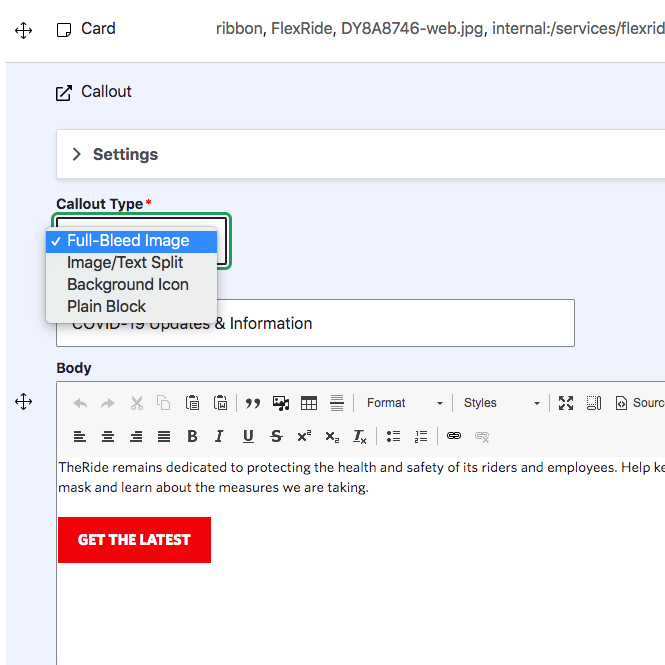 Mapped Images
TheRide needed a way to pinpoint elements on a map or image and provide details about that particular point, like a commuter lot or a bus stop. We implemented a custom solution that allows content editors to place pins on any image exactly where they need to. Each pin is connected to descriptive text below the image. Content editors can also customize the pin's label (a/b/c, 1/2/3) and color. The pin's text color is automatically set to white or black to ensure accessible color-contrast ratios.
Fares Tables
With thoughtful use of Drupal's taxonomy setup, we made it simple for content editors to display highly-structured data, like fares tables. On the front end, we carry that thoughtful setup onto the user through clean tables, tabbed interfaces, and accordions to limit the information on-screen to what each visitor finds important. We also give extra details (service definitions, rider classification details) as table captions or hidden behind the help icon so users have all necessary information at their fingertips.
Creating a First Class User Experience
Our content and design teams worked closely together to create an intuitive, self-service user experience for riders. We made it simpler for people to access the information they needed to use TheRide's services, whether it's looking up the price of a one-way fare or how to travel with a bicycle. Our goal was to make the website a valuable resource that would help riders understand everything TheRide has to offer.
Content Strategy
We conducted a content audit and analysis to become more familiar with TheRide's content. The analysis helped us identify and remove outdated content that was no longer serving a purpose to their riders or their organization. It also gave us plenty of ideas for how we could improve their content. We took our new ideas and laid out the blueprints for our content strategy.
Content Creation
Once we had a clear plan for the new content, we asked subject matter experts from each department to help us out. These individuals shared their knowledge and helped us understand the inner workings of the organization, from the services they offer to the way their pricing structure works. We took what we learned and drafted new copy using natural, everyday language.
Design
The new design gives a fresh spin to TheRide's iconic brand, while helping riders navigate the website and solve real problems. We used design to help new riders understand important concepts like how to ride a bus, plan a trip, or pay a fare with strong visual aides. We created an attractive mega menu to help riders quickly skim the website and locate information. We also updated the interface for popular online tools to help riders better track their bus, view routes, and much more.
It was important for TheRide to find the right vendor who would understand the pain points of its old website and construct a fresh version that functioned in a more modern way for its customers and staff. Gravity Works was able to follow through with extensive research and shared with TheRide team easy concepts to capture feedback for all areas of development. Our website now loads much faster using a new content management system and our subject matter experts are overjoyed with how easy it is to update content. We are truly proud of the redesigned website with the support from Gravity Works!
Becky Ashcraft
Graphic Designer, TheRide
Like What You See?
We love people who are passionate, communicative, and care about doing things the right way. Sound familiar? Let's start talking.