Capital Area Transit Authority
Capital Area Transportation Authority (CATA) is the primary public transit provider in the Lansing area–offering millions of rides each year–and is trusted by thousands of residents, visitors, and MSU students. Our team built a mobile-optimized website to bring route information and planning tools to the forefront.
>10M
passenger trips per year
340
employees across departments
559
square-mile service area spread across 3 counties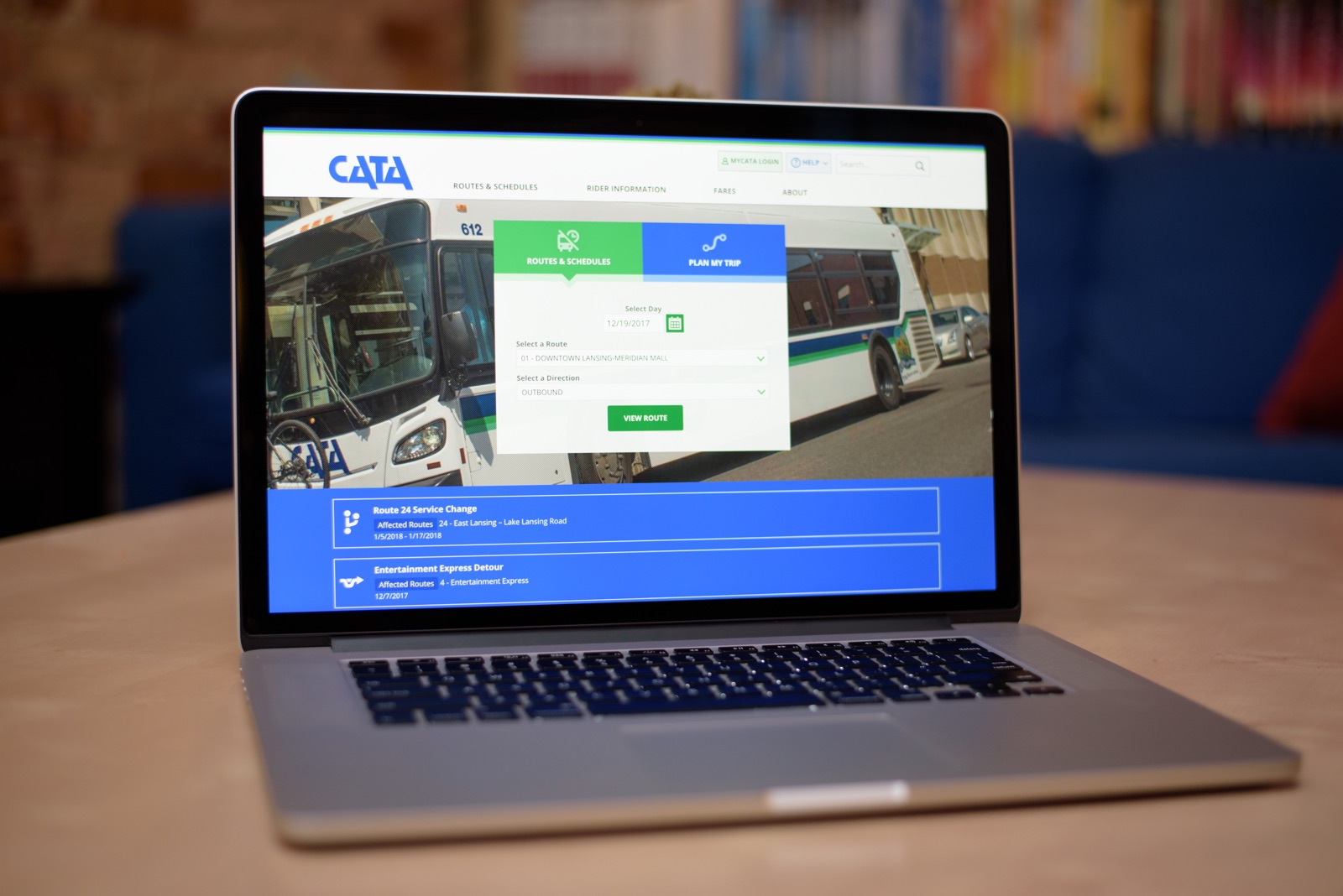 Results
For many public transit systems, riders must download an application to their mobile devices to access ridership tools. While this is often an appropriate option, there is another method that may be more effective at attracting users–web applications. CATA opted to take this alternative approach by offering a web app that their riders could easily access from any browser. After launch, the mobile bounce rate decreased by 37%. This means users were spending more time on the site instead of leaving after one page visit.
37%
reduction in mobile bounce rate
Riders were able to:
Find incoming buses and nearby stops.
Plan trips by travel time and destination.
Favorite routes to subscribe to service alerts.
Buy passes in the online store.
Scheduling
Riders can use the route scheduling tool to determine which bus route will get them the closest to their desired location. We built this tool to cater to the needs of commuters and college students that are regularly using CATA to get to work or class. Since CATA serves two higher education institutions, including Michigan State University and Lansing Community College, this feature is particularly valuable.
Locate Nearby Stops
Riders needed a simple way to find the nearest CATA stop. Our team created a tool that displays the number of nearby stops, the routes that each stop serves, and where each stop is located on a Google map.
Route Alerts
CATA needed a convenient way to communicate information to their riders, so we created a ride alert subscription within their new site. More than 1200 subscribed riders receive notifications, sent to their mobile devices or email, whenever there's a service change that may affect their regular route.
Online Store
Ridership bus passes are purchased and processed through the online store on the new site. This feature includes detailed fare information, including a variety of fare options to meet every rider's needs and budget. Once users have finished adding items to their online cart, they can carry through with checkout onsite, instead of being redirected to an offsite location.
Accessibility
CATA serves a diverse ridership. We made sure that the new website was fully accessible to all riders, and followed WCAG Level AA guidelines.
User Testing
To understand the needs of all audience groups, our team performed multiple in-person and online user tests. With each test, we reviewed the user's ability to understand the interface and complete specific tasks. In-person and online tests included the site structure, online store, schedules, and bus tracking tools.
Like What You See?
We love people who are passionate, communicative, and care about doing things the right way. Sound familiar? Let's start talking.